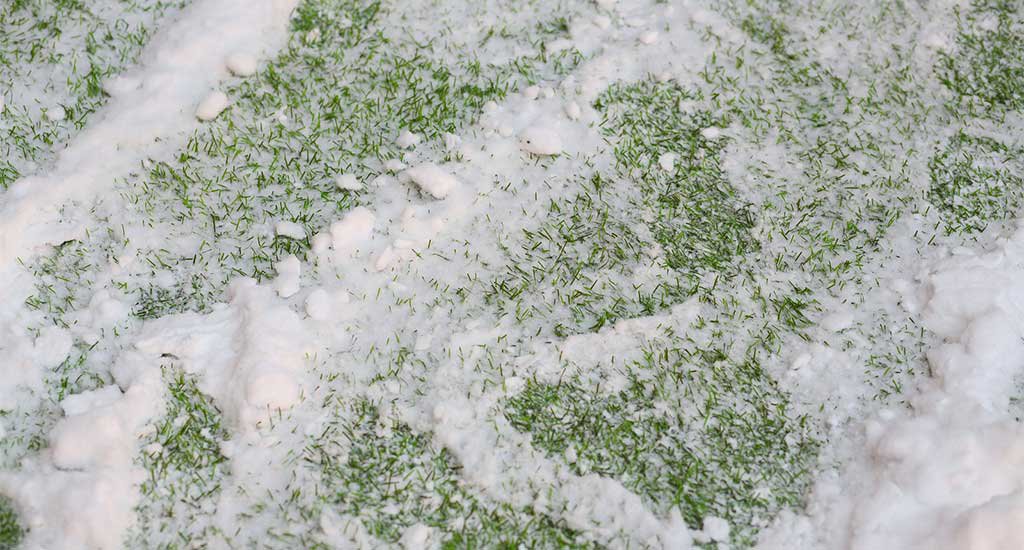 Artificial grass in winter
Am I allowed to walk on my artificial lawn in winter? Will the weather conditions, like cold, snow and frost, damage my lawn?
Winter conditions are no issue for Royal Grass®. Your lawn will not be damaged by a long period of frost nor will it break when you walk on your lawn in winter. However, the colder it gets, the more "rigid" the grass fibres will become.
Snow or cold pose no problem for Royal Grass® artificial grass. The lawn will not be damaged by a long period of frost. The artificial grass will not break when you walk on it. However, please do pay attention when there is snow or glazed frost on your lawn. If snow is fixed on the artificial lawn and has formed a layer of ice, it should not be removed manually because you can damage the grass fibres. It is better to let the snow melt away in a natural way. Alternatively, you could use salt, but you should do this only occasionally. The salt residue could remain on the carpet backing and frequent use of salt may cause problems for the drainage of your lawn. You can clear your artificial lawn from snow with a plastic snow shovel. You should not use a metal shovel as this is more likely to damage the synthetic fibres.