Artificial Grass
Do you want a lawn that looks beautiful and green all year with no maintenance? Artificial grass is the solution to a perfect lawn and it is almost indistinguishable from natural grass.
There are many advantages of using artificial turf in gardens, on balconies, the playground and public areas. It requires no watering, weeding or mowing. Royal Grass® is durable, soft and looks real.
Benefits of Artificial Grass
Artificial grass is an investment because you no longer need to spend time and money on lawn maintenance. For families with children, the artificial turf feels wonderfully soft and provides a safe flooring solution for play areas. For dog owners, the fake grass will not get muddy or wear out. For people with allergies such as hay fever, artificial grass will help to prevent any irritation.
There are very few disadvantages of synthetic turf. A common argument is lack of realism, which is often seen in low quality fake grass. Royal Grass® provides synthetic grass of the highest quality and is hardly distinguishable from natural grass. Royal Grass® is the only supplier of artificial grass to use V-shape® and Micro Nerve Technology (MiNT®). These features allow us to imitate all the visual characteristics in a blade of natural grass.
Why Royal Grass®?
Since 2003, Royal Grass® has specialised in the manufacture of decorative synthetic turf. Our products are intended for gardens, playgrounds and public green areas. So Royal Grass® knows exactly what you need and what you are looking for as a customer. That's why our service goes beyond the simple supply of synthetic grass. In consultation with carefully selected specialists, we are committed to offering you a comprehensive solution. From expert advice and detailed design to the installation of your synthetic grass, our certified Royal Grass® experts will guide you through your project to ensure all requirements are met. Each project is treated with the greatest interest and the greatest precision, whether for a small or a large project. Royal Grass® certified landscape professionals are true synthetic grass specialists with a real passion for their craft.
The cost of synthetic turf
Purchasing synthetic turf is a one time investment. Once the lawn has been laid, you will not have to worry about it anymore. Synthetic grass is a practical product that reduces watering as well as time and costs associated with maintenance. Compared to natural grass, it will save you money very quickly.
If you want to enjoy a beautiful new lawn, a Royal Grass® Dealer will be delighted to inform you about the different artificial turf products best suited to your project. However, if you still have doubts about synthetic turf, you can visit one of our show gardens and see the quality for yourself.
What should you know before buying synthetic grass?
Buying synthetic grass is a long-term investment. To help you enjoy a beautiful lawn for many years, it's worthwhile considering the details below before making your final choice.
Artificial turf with or without sand?
For decorative lawns, there are two types of artificial turf available.
Artificial lawns without thatch (curly fibres weaved under the blades of grass) require a sand infill to support the synthetic blades of grass in preventing them from falling flat. Alternatively, an artificial lawn with thatch does not require a sand infill because the synthetic blades of grass will naturally remain upright. Royal Grass® offer both types of artificial grass because each has its own advantages.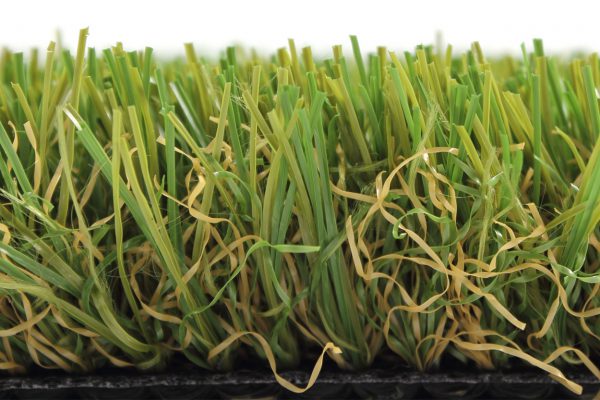 Artificial grass with thatch
Thatch (curly strands weaved under the blades of grass) is one of the latest product developments for imitation grass. The straight blades of artificial grass are supported upright at their base by the thatch. It can be said that these curled strands imitate nature as they are very realistic and pleasant to touch.
There are two advantages to thatch. Firstly, it gives an extra shade of colour to your lawn as thatch is light beige or dark brown, which looks great under the green grass. Secondly the installation of artificial grass with thatch is easier because you no sand is required.
Artificial grass without thatch
Artificial grass without thatch requires silica sand to be applied after installation. This increases the weight of the grass carpet in order to keep it stable and prevent creases. Additionally, the sand supports the synthetic blades of grass to prevent them from falling flat. The sand also gives the artificial turf an even more natural appearance.
Sand infill is ideal for intensive use such as for ball games or in playgrounds.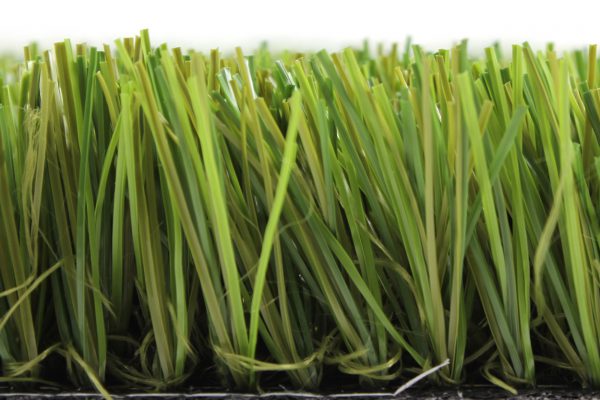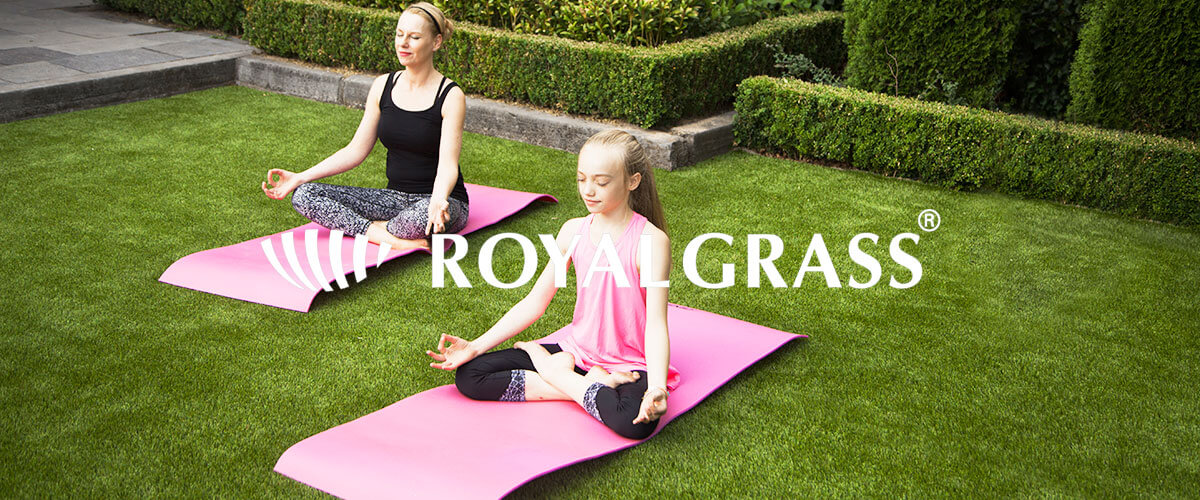 Visit our blog
Royal Grass® experts from around the world share their knowledge and experience on our blog:
Our website provides extensive information about fake grass carpets for both consumers and professionals. Advice is provided on all popular applications including residential lawns, gardens and landscaping, commercial flooring, events and displays, school playgrounds and kids play areas. Royal Grass® can provide a suitable product and installation service for all the fore mentioned applications. Please note that Royal Grass® does not supply products for 3G sports fields such as Astroturf to whom we have no affiliation.
Royal Grass® is always looking for new partners. If you are a professional gardener or landscaper and you are interested in selling Royal Grass®, please contact us directly.
We can supply architects with specialist information about the construction and use of artificial turf. Various specifications, text and drawings can be provided for download free of charge.