Why Professionals Use Artificial Grass
"the best of both worlds…"
Everyone wants to create a space that is practical and beautiful. Natural grass is not always practical and has significant maintenance requirements. Artificial grass is the solution because it can be installed anywhere on almost any surface with little maintenance. Royal Grass® is now a popular choice for architects, landscapers and gardeners.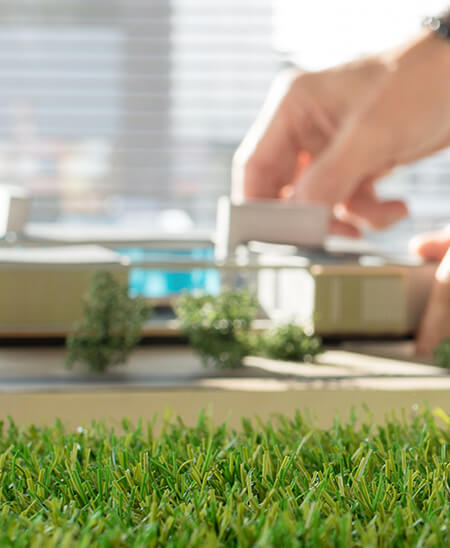 Why architects use Royal Grass®
Artificial grass is often used by architects to soften the hardness and abrasiveness that industrial and modern buildings bring with them. It bridges the gap between concrete and nature. Urban areas, offices, commercial buildings, restaurants and hotels frequently use artificial grass indoors to make the room more appealing and bring the outdoors in. We believe Royal Grass® has the most natural and realistic product range so the modern architect can create a beautiful green space that surpasses expectations.
As an architect, we also want to help you provide a visual aid for your customer during the design stage of your project.  Our portfolio of inspiration showcases a broad spectrum of ideas to assist you in creating a unique space. Free artificial grass samples are available for you to see and touch the quality of Royal Grass®.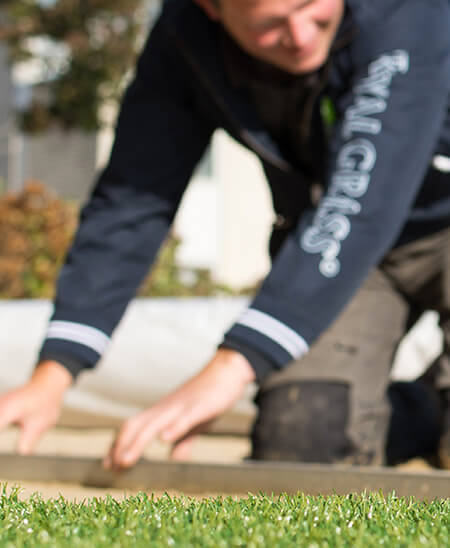 Why landscapers and gardeners use Royal Grass®
With the ever increasing popularity of artificial grass, you need to stand out from the crowd. Now you can impress your customers with something they have never seen before – the outstanding realism and quality of Royal Grass®, manufactured in Holland. Once they touch and feel our artificial grass they will want it in their garden because our patented technology is not available anywhere else: our V-Shape and Micro Nerve Technology perfectly imitates a natural grass lawn. Now your customers can enjoy perfection with Royal Grass®, which comes with a 15 year warranty.
As an artificial lawn installer, we are here to help your business grow. Royal Grass® will provide you with all the professional support you need through our sales and marketing department.