Register Your Guarantee with Royal Grass® Portugal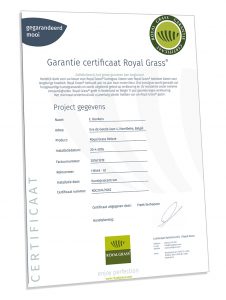 By registering your Royal Grass®, you will receive the warranty certificate for your product. After registration, you will also receive the digital maintenance manual. Another benefit is that we can help you faster if you have any questions in the future because your data and your product are already known to us! Of course, we treat your personal information confidentially.
Please note: Your warranty can only be registered if the installation has been carried out by one of our specialists and within 2 months of installation.
Royal Grass® gives peace of mind
A market leader since 2003
Guaranteed safe
Tested for strength and durability
UV resistant *
15 year warranty *
* Royal Grass® provides a warranty of 15 years on all defects that can be attributed to the manufacturing of the product.