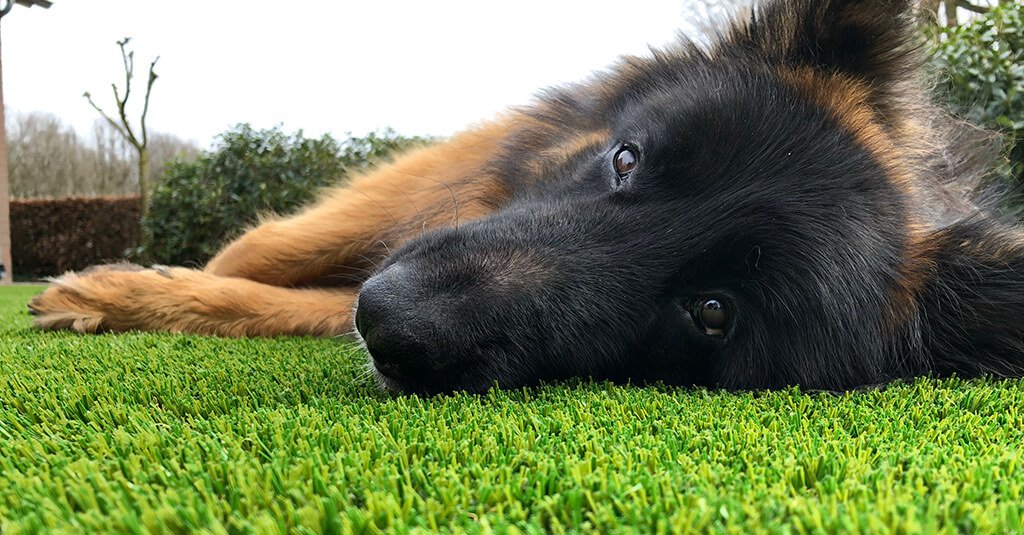 How to remove urine smell on artificial grass lawn
A urine odour in your artificial grass can be very predominant and unpleasant. It isn't very nice to be sitting in a garden that smells of pee of a dog or cat. Fortunately, it is easy to fight the smell of cat or dog urine. Simply rinsing the spot where your pet has urinated with lukewarm water is often sufficient. There are also various special products available against the unpleasant smells.
Artificial grass for dogs or cats
Many people are worried that artificial turf isn't suitable for dogs, cats or other pets. However artificial lawns by Royal Grass® are very robust, resilient and wear-free allowing even the biggest dogs to romp around on your lawn. As Royal Grass® is 100% safe, licking and sniffing the artificial grass poses absolutely no threat to the health of your faithful companion and that is of course a reassuring thought when you let your dog or cat play on your lawn.
There is always the risk that your pet will relieve itself on your artificial lawn. Fortunately, this is not harmful to the grass carpet. Your artificial grass will not discolour for instance. So, there's is no need to keep your dog inside or to try to keep cats out of your garden. To prevent nasty smells, little maintenance is recommended to clean excrements as soon as possible and to rinse the spot with neutral, lukewarm water. The same applies to spots where a dog or cat has urinated. In most cases, this is sufficient to prevent having the smell of urine in your artificial grass.
Removing urine odour from your garden
Does your artificial grass smell? For example, because you aren't always at home so you're not always able to spray the artificial grass after a little accident? Then it's a good thing there are several (organic) products available to get rid of that urine odour. You can use white vinegar for instance, but you can also choose cleaning agents specifically developed to combat the smell of urine. There are different anti-urine sprays available. In addition, you can scatter odour neutralising granules on your artificial lawn.