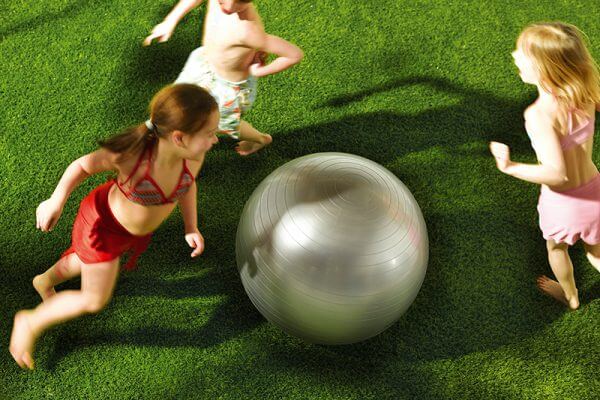 Can I play sports on artificial turf?
There is artificial turf on the market designed for sports. In fact, there are even various types of artificial grass playing fields as different types of sports require different types of grass. For instance, football requires different turf than tennis. Moreover, sports grass does not necessarily have to look like real grass and can even be blue or orange or pretty much any colour. Artificial grass from Royal Grass® has been developed for decorative purposes. Of course, you can play ball games on it if you like, or have your children run around on it, but Royal Grass® is not suitable for official sports events. This has to do with the requirements that playing fields have to meet.
What is soft fall playing grass?
A soft fall artificial surface is artificial grass that is installed on top of an impact absorbing layer. This layer is required for public play areas, but nowadays more and more individuals also decide to have an impact absorbing mat installed under their playing or climbing equipment. This makes it even safer for children to play on.
Is sliding on artificial grass safe? I do not want to get friction burns!
Artificial turf is available in various types. The chemical composition of the synthetic materials used determines its level of skin friendliness and also whether you are likely to get burns when you make a sliding or not. This is something we have learnt from the sports industry (artificial turf for football). The synthetic material we use is the most "sliding-friendly" available. It feels very pleasant even though it does not feel entirely the same as natural grass.