Artificial Turf for Roof Gardens
Add a stylish, lively touch to your roof terrace by laying artificial grass with the natural look of Royal Grass®.  Easily combine your own personal taste in decorating as Royal Grass® will match any style, from classical to the latest modern trends.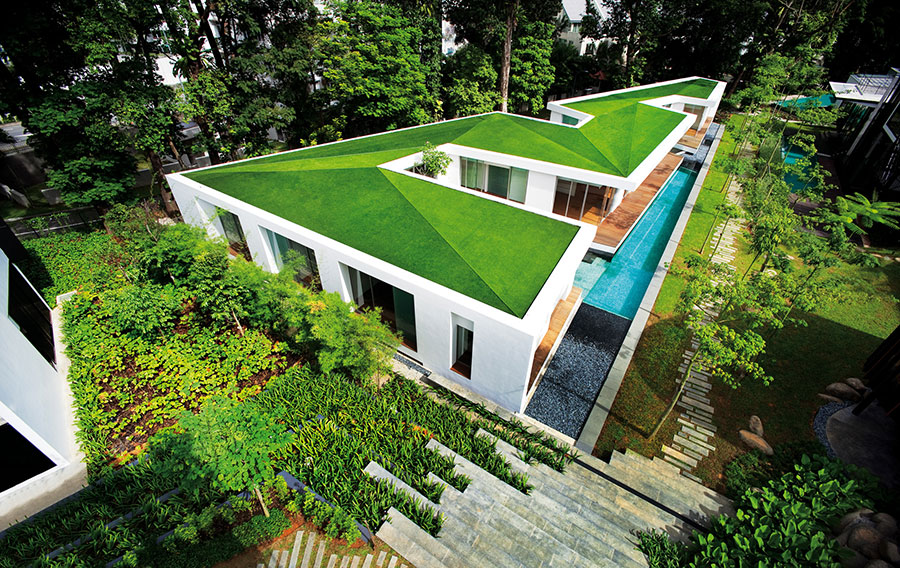 You can create a green oasis on your rooftop in minutes. Potted plants and garden furniture are very suitable.
Rooftops require a well organised drainage system and the substrate must be level. In times of heavy rain, the water drains in some areas are often overflowing. Increasing the surface of green roofs can provide a solution. These green roofs store rainwater temporarily very efficient and fast, for later use, disposal, or to evaporate. This is a great advantage for your drainage system.
Advantages of artificial grass for green roofs
Lifespan: A green roof increases the life of the roof covering.
Energy savings through thermal insulation.
Saves about 23% of energy per year.
Cleaner air through capture particulate matter.
Increase in value of the building itself and the surrounding buildings.
Relatively low weight compared to natural grass, no substructure is needed for grass to root.
Reduce flooding
When it rains, the rain water on a classic flat roof immediately is transported to the roof drains and fed into the plumbing pipes. Research has shown that a green roof can pick up about 50% of the rain water and release back into the atmosphere. This provides a significant relief of the sewerage system, so the risk of flooding and the load on the water treatment is reduced. Assuming that the area of green roofs greatly increases, they may very well be a useful weapon against flooding in the future.
More benefits of artificial grass
Can be used on lighter roof constructions
Attractive appearance and minimal maintenance year round
Absorbing and insulating effect
Recyclable, even cradle-to-cradle
More attractive than a paved gray or black surface
Sustainable and safe for the environment
Weather conditions have no influence